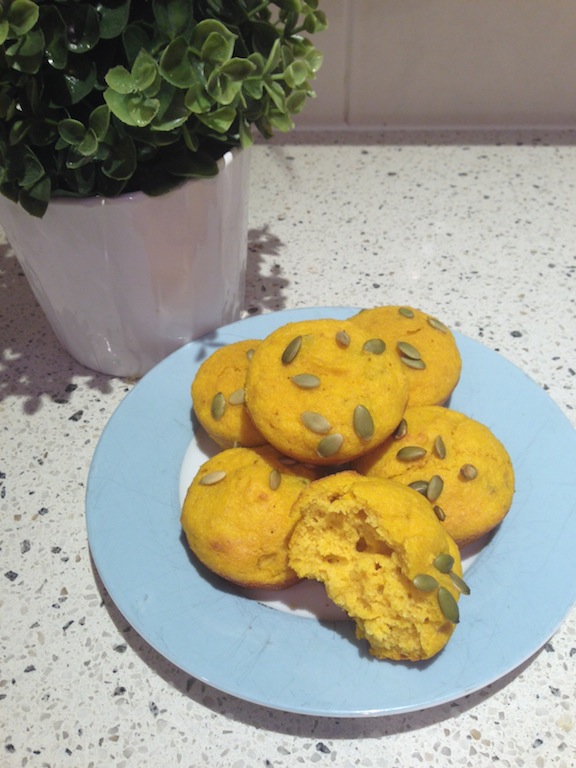 Want to hide some vegies in your next batch of muffins & enjoy a nutritious and delicious snack with no added sugar?
Try this quick, tasty muffin recipe with a twist, which is rich in antioxidants, fibre and is really quite satisfying.
Pumpkin is the key ingredient here making these muffins naturally sweet & a rich source of Beta Carotene & some Vitamin C (which are known antioxidants, so help protect cells from damage which contribute to aging & disease). Beta Carotene converts to Vitamin A in the liver & is important for eye & skin health and for a strong immune system, among other things.
Pumpkin is also a great source of potassium (important for healthy blood pressure) & a source of fibre. Wholemeal flour adds to the nutrients and fibre, helping to stabilise blood sugar & keep us feeling fuller for longer.
Polenta is made from milled yellow corn & helps to add texture & weight to these muffins. It's really no healthier than wholemeal flour, although it does contain reasonable amounts of Beta Carotene & contains trace amounts of iron and Vitamin C & is slightly lower in calories & carbs than wheat flour. Polenta is also gluten free, so to make these muffins completely gluten free, use a gluten free flour in place of the wholemeal SR flour. Try buckwheat, teff or amaranth flour for a higher fibre, higher protein, gluten free version.
Natural yoghurt provides calcium and helps keep these muffins soft & moist.
Ingredients
400g pumpkin, peeled & cut into 4cm pieces
1.5 cups wholemeal self-raising flour
1 cup instant polenta
2 tbs pepitas (pumpkin seeds)
1 cup low fat plain natural yoghurt
2 eggs
2 tbs oil (olive or rice bran)
Directions
Pre-heat oven to 200 degrees. Lightly spray a muffin pan with olive oil spray.
Steam pumpkin until soft. Place in food processor & blitz until smooth.
Add yoghurt, eggs & oil to pumpkin in food processor & wiz until combined.
Add flour, polenta & 1 tbs pepitas to food processor & gently stir until just combined.
Divide batter among muffin holes & scatter remaining pepitas over the top.
Bake for 18-20 mins or until they spring back when lightly touched.
Transfer to wire rack to cool.
Modifications: Add 1 tsp cinnamon or mixed spice to the flour for a sweeter version. Or add chopped herbs & other vegies to make a more savoury version. To increase the protein & healthy fats, content you could add 1-2 tbs of almond meal or ground LSA (Linseeds, Sunflower seeds & Almonds – from the health food aisle of the supermarket).
Makes at least 12-15 muffins.