Pancakes are often seen as a treat food & considered "naughty", because they are usually low in nutrients & high in poor quality carbohydrates that spikes your blood sugar, leaving you tired & craving more sugary foods a couple of hours later.
These pancakes are my kids favourites & I'm more than happy to make them because I know they are getting an incredible breakfast which will help their energy, concentration, mood & keep them feeling full & satisfied for hours!
These pancakes are rich in whole grains, fibre & protein and are packed with B-vitamins, magnesium, iron, zinc, & calcium, as well as low GI carbohydrates for slow release energy. They taste amazing & seriously only take about 5 minutes to whip up in a food processor. The batter lasts in the fridge for days too, so they can be used for piklets later in the week. Here's my recipe:
Oaty Banana Pancakes/Piklets
Serves 5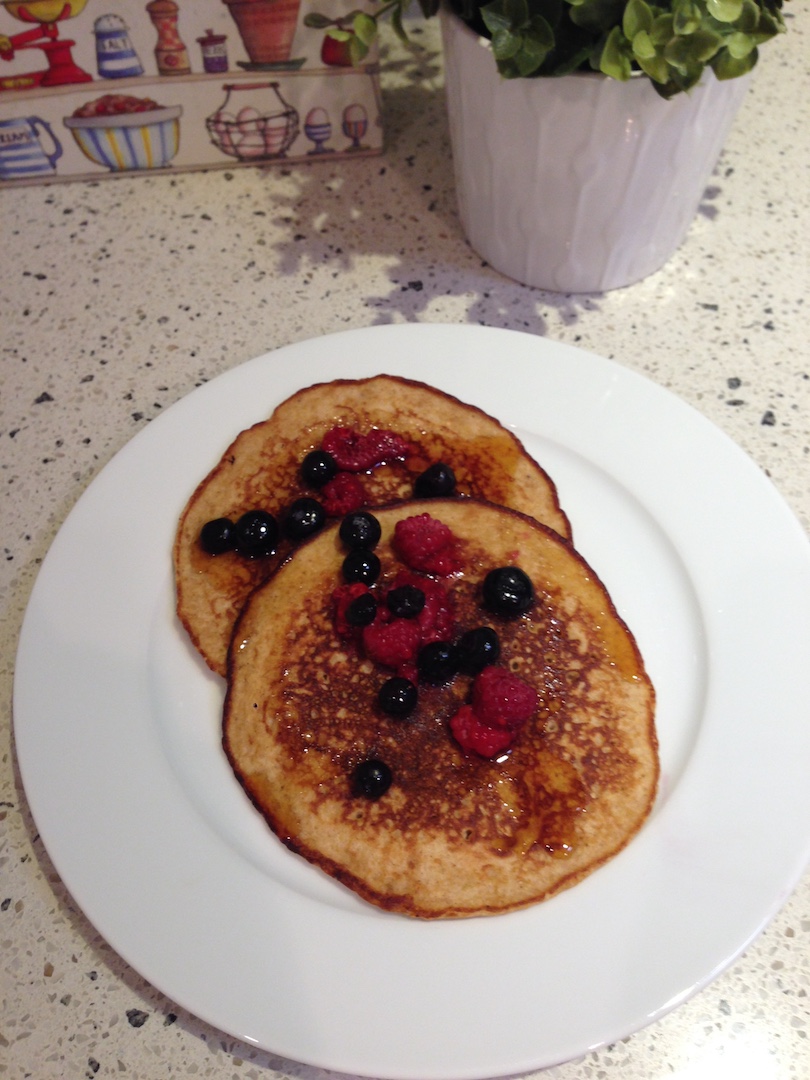 Ingredients

1 cup raw rolled oats
1 cup wholemeal SR flour
1 tsp baking powder (optional)
2 medium bananas
3 medium raw eggs
1 cup low fat plain natural Greek yoghurt
1/2 cup low fat milk (add more or less for desired consistency)
1 tbs LSA (Linseed, Sunflower Seeds, Almonds) – great source of healthy fats & minerals
1 tbs almond meal – (you could use 2tbs of either LSA or almond meal if you prefer)
1 tsp vanilla extract/essence
1 tsp cinnamon – or other spice mix e.g.: mixed spice, allspice, nutmeg
Method
Blits oats in food processor to make a coarse flour. Add all other ingredients. Blend on low speed until smooth. Mixture will be thicker than usual pancakes. Add more milk to make the mixture easier to pour.
Heat fry pan on medium & combine 1/4 tsp butter with a spray of olive oil or cooking spray in the pan & cook each pancake until golden on each side. Keep warm in oven until all are cooked.
Serve with fresh or defrosted berries (strawberries, raspberries, blueberries) + a drizzle of real maple syrup (less than 1 tbs).
Makes 10 thick, filling pancakes, or 20 piklets.
Nutrition panel
Each pancake has 150 cal, 6.4g protein, 3.9g fat (1g saturated fat), 23g carbs, 3.2g fibre