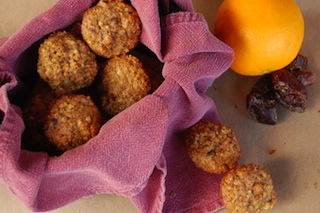 These delicious mouthfuls of goodness make a lovely treat or school lunchbox snack & are perfect for small hands and portion control.
They are packed with natural energy in the form of dates, & have great fibre, vitamins & minerals from the whole orange (skin & all) & wholemeal flour. The natural yoghurt adds calcium, protein & probiotics.
Ingredients
1 orange
½ cup dates
1 egg
125g melted butter
1 ½ cups wholemeal SR Flour
¼ cup sugar
1 cup Plain Natural Greek Yoghurt (Low fat, no added sugar) – add a dash of milk if mixture looks too thick.
Method
Preheat over to 200degrees.
Wash orange thoroughly & cut into segments. Remove any seeds and place in a food processor and process (skin & all) until reduced to small chunks (10-20 seconds). Add the dates, egg, melted butter & sugar. Process for another 10 seconds. Add flour & yoghurt. Process on low speed until combined. Do not over mix.
Spoon mixture into well greased mini muffin pans (line with mini patty cases if desired). Bake for 16-20 mins or until golden.
Makes 48 mini muffin bites. 50 calories per muffin.
Have 1 with a cup of tea as a treat or 2 with a dollop of natural yoghurt & a small handful of nuts & seeds for a satisfying & complete afternoon snack. Enjoy!