I love summer time as it means delicious salads are back on the menu. This salad is just a mix of ingredients I had in my fridge & cupboard at lunchtime today.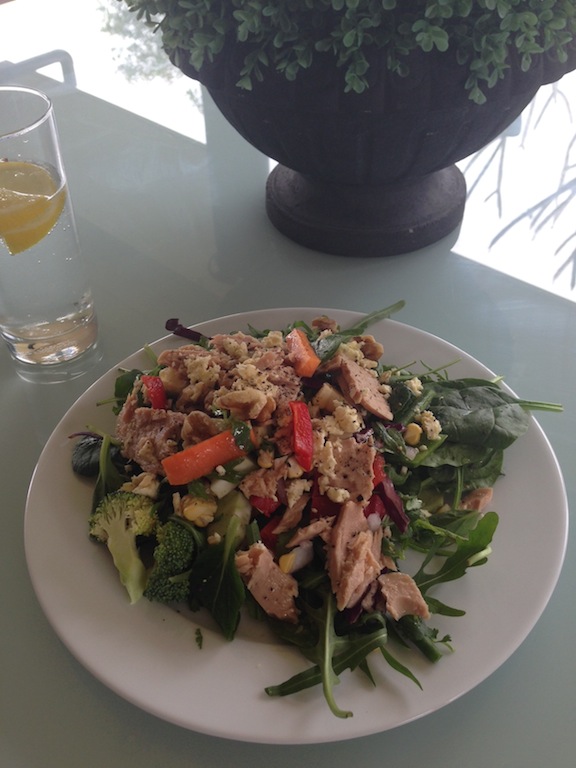 Lunch is often a forgotten opportunity to get extra veggies in. I always aim for at least 5 different veggies at lunch & dinner, but today I managed 10! It is so easy to chop up (or grate) extra veggies at dinner & have them ready to throw into a salad at lunch or again for dinner the next night.
This salad is bursting with colour & flavour and provides an array of vitamins & minerals, (which support our immune system), as well as omega 3 fats which are important for our concentration, mood & a healthy cholesterol level. There is plenty of protein in here too from the tuna, walnuts & fetta. If you are not a fan of fish, then try adding 1/2 -3/4 cup 3-bean mix or soybeans or lentils as a meat free protein alternative.
If you are very active you may need to add another source of carbohydrates to the salad, such as rice, quinoa, sweet potato or have a slice of grainy wholemeal bread or a small wrap with it, otherwise you may end up hungry sooner and/or lacking energy in the afternoon.
I haven't added any extra carbs today, as I actually had 2 of my delicious pumpkin & polenta muffins (see my previous post) after my run mid morning, so I don't need that extra source of energy. I will also probably have some other healthy carbs this afternoon & this evening. It's all about balance & understanding what your body needs to fuel it & knowing how not to over do it.
Ingredients
Bag of rocket salad mix (rocket, baby spinach & red cabbage)
Red onion
Red capsicum
Carrot
Broccoli (raw)
Snow peas
Green beans
Corn (fresh from an uncooked cob)
Tin of smoked tuna (or salmon) (drained)
1 tbs walnuts
1 tbs fresh coriander
3 x 1cm cubes marinated feta (+ 1 tsp the oil it is marinated in)
Drizzle of apple cider vinegar
Method
Throw a couple of large handfuls of salad mix into a bowl.
Roughly chop all other raw veggies & add to salad bowl.  Use as much of each vegie as you like. Slice a couple of rows of corn off the cob (uncooked) & add them to the salad. Uncooked corn is delicious & crunchy and goes really well in a salad.
I tend to make an extra large salad so that I have left overs either for dinner or lunch the next day, so I don't generally add any wet ingredients until it is on my plate. This keeps the salad from going soggy. It means that you can also use the left over salad ingredients in a sandwich or wrap for lunch the next day.
Place the required serving of salad veggies into a bowl or onto a plate, then add a tin of drained tuna/salmon (or beans). Sprinkle with walnuts & feta (& 1 tsp oil) + apple cider vinegar. If you don't like coridander, try any other fresh herb to zing up your salad. Add ¼ cup cooked rice/quinoa or a slice of wholemeal, wholegrain bread or a small wrap for carbs to keep you feeling full & for sustained energy into the afternoon. Remember, that you can & should eat a lot more of the salad veggies than you normally would. This helps to fill you up & provides all those great nutrients for a healthy mind & body too.